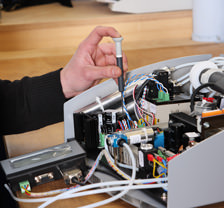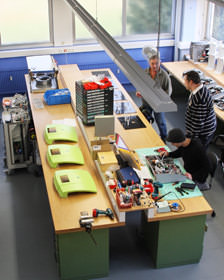 Highest quality standards and absolute reliability 'made in Germany'
From its headquarters in Kleinwallstadt in Lower Franconia, HERRMANN Apparatebau supplies therapists and doctors all around the world with state-of-the-art therapeutic systems. The key to our success is the unique quality of our products. With the exception of very few components our systems are manufactured exclusively in Germany - the fact that we keep our faith in our location plays an essential role in maintaining the strong market position of HAB.

Market advantages thanks to local production
Instead of outsourcing its production to foreign sites with allegedly lower costs, HERRMANN Apparatebau relies on local manufacturing. This step allows us to control the quality of our products permanently. In addition, the in-house communication between our production team and our research and development department guarantees that important impulses for the continuous improvements of our products reach the engineers directly.

Further training as a success recipe
Our expert employees are a vital part of the company culture of HERRMANN Apparatebau. Therefor our team in the production department regularly participates in further training courses. The experience and expertise they have gathered there can be implemented directly in the quality of our products. Furthermore we enjoy sharing our knowledge: in special training events and seminars our customers can get to know our systems down to the smallest detail.